eMLi will provide a Complete Attendance System. You can register the attendance of the student in two ways. One,as he enters the campus and second in each lecture he attends. Both system can be integrated to the RFID and Bio-Metrics devices. This module provides automated timekeeping and attendance tracking. Attendance records can be maintained through RFID or Bar-code.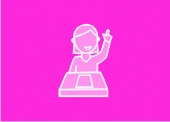 Every students/employees presence matters! A missed school day is a lost opportunity for student. Employees who show up for work on regular bases and give proper notice of absence are practicing good attendance.
Manage the attendance of students from different disciplines of institutes on a single system and scrutiny the attendance process both for the students & employees. Module records daily attendance of students automatically so that educators do not need to waste their time doing administrative work.
Module also allows you to generate various reports regarding attendance percentage as a part of disciplinary management and can differentiate between regular and irregular students in a matter of time.
Key Functionalities:
Student wise summary of attendance
Last attendance taken
Date and lecture wise complete report
Monthly report
Subject topic wise reports
Complete academic attendance
Top Regular and Top Irregular students
Employee Attendance System
eMLi provides a powerful solution to maintain the attendance of the employee of the organization including Academic Staff, Administrative Staff and Other Staff. The Attendance Module will provide you a systematic way of management for the attendance of your employees. For academic staff (Faculties) eMLi will automatically calculate the work-load and for the rest of the staff members eMLi will calculate the working-hours. Some of eMLi's employee attendance reports are as follows.
Workload report for lecturer
Subject topic teaching report for lecturer
Working hour report
STUDENT
EMPLOYEE
RFID Attendance
Work-Load
MIS Reports