Providing best quality education is the main objective of any academic institution. We believe that the management of the academics is even more important. The eMLi provides you the easiest way to manage your academics.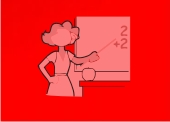 All academic management modules of eMLi are integrated and interlinked. Starting from deciding the syllabus, eMLi provides the teaching plan and curriculum management in best possible way. The syllabus can be divided in small portion to prepare a daily teaching plan for the faculties. Further the presentations or other material used in the class can be shared with the students through student-login of eMLi which will create a e-Learning Resource Center. 
 You can have different mode of teaching in your organization without collision. eMLi support flexible course management where you can define your own structure of each program which will not affect another programs. Even in one program you can adopt completely different academic systems e.g. you can have two program of M.Sc. one in Semester System and another in Trimester System.
Key Functionalities:
Define credits & weightage
Syllabus arrangement according to institute working days
Different syllabus segments for class tests & mid-sems
Syllabus planning for short periods e.g. for a day, week, month, etc.
e-learning resource centre for students
Notes, files, documents, hyper links, videos, etc. can be shared
Automated workload generation on daily basis
24x7 access
Systematic planning & execution
Real time integration
Syllabus
Program
e-Learning
Flexible Structure
---
Year | Semester | Trimester | Any