To facilitate the human resources section and have a better management of the workforce, eMLi has provided Employee Management which balances one of the most vital part of your organization – your employees.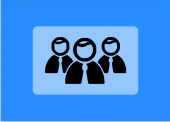 To efficiently and smoothly run any workplace it is essential to manage their employees. Bad management thrives any organization in chaotic environment.
Employee Management by eMLi manages all the employee data,from recruitment to retirement, records routine activities of employees in the system, calculates their workload, sets different tasks & activities, keeps a track of service data, current status, personal scheduler and much more.
With employee management, administration can have a clear vision of organization's workforce, improved working potential, increased efficiency and uniformity in work structure.
emLi also provides Travel Desk facility for employee's travel purposes. From start date to end date, purpose of travelling, city, ticket charges, total expenditures and approved or pending status are recorded and managed in a systematic way.
Key Functionalities:
Recruitment & selection
Unique ID system for staff members
Service record & other human resource inventory
Attendance & leave records
Promotion & transfer
Activities & tasks management
Automated workload calculation
Event & holidays management
Grievance management
Academic timetable
Identity cards management
Personal scheduler & its management
Address book
Statistical reports & performance assessment
Performance appraisal
Retirement & disposal activities
Department wise login
Course Allocation
Staff Academic Year
Allowance and Deductions
Increment
Travel desk
---
Daily | Monthly | Yearly Scheduler