Award a degree certificate to the students who have met all the criteria & requirements to claim it after final year completion of their course or program. eMLi makes it very easy to generate & issue course completion certificates irrespective of number of students or institutes affiliated with the organization.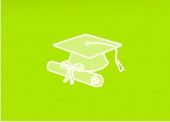 If you are looking to make a career transition, acquiring a college degree can be important factor in improving your life for many reasons, ranging from better health to higher education.
eMLi possesses the same provision of providing duplicate certificates with application format & fees structure prescribed within.
With the auto-generated unique certificate number,data can be recorded and maintained very easily with its simple interface. Integrated data & records allow administration to set eligibility criteria to attain the certificate which ensures flawless assessment & processing.
With emLi's degree felicitation facility, students can get online degree certificate of their provisional and marksheet and can directly issue from online process.
Key Functionalities:
Easy certificate generation
Data updating, recording & maintenance.
Autogenerated unique certificate number for easy storage & retrieval
Data integration
Duplicate certificate generation with application format & fees structure
Withheld cases authorization
Digital signature of authority
Modified certificate format
Admin settings
Simple interface
Fast & precise processing
Unique Certificate Number
Certificate of Achievement
Provisional and Marksheet
---